About the Scott Center
The Scott Center for Autism Treatment at Florida Tech is a registered 501c3 non-profit healthcare clinic founded in 2009 by Ed and Cheryl Scott and former U.S. Senator Dave Weldon. We are an integrated component of Florida Tech's graduate program in Behavior Analysis, specializing in training, research and treatment in the field of Applied Behavior Analysis (ABA). Our clinic is dedicated to improving the quality of life of children with autism spectrum disorders (ASD) and related disabilities in Central Florida. Monies raised directly impact families in need for assistance with evaluations, ABA/ Occupational Therapy/ Speech Therapies, Tutoring/ Educational needs, Sensory Aids/ Tools, Autism Awareness Vehicles, Guidance, and Social Activities for Families affected by Autism.
Day of Giving
This day of giving, we are seeking your donations to help assist the Scott Center's mission. Your generous contribution would make a huge impact for our staff and families. Help support life-changing therapy for individuals with ASD by donating today!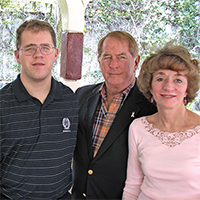 Ed and Cheryl Scott with son, Reece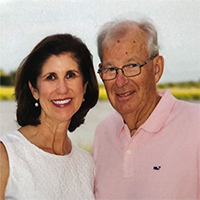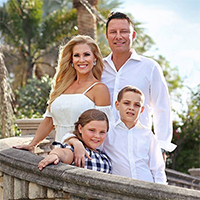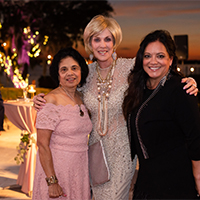 Rashmi Shah, Susie Wasdin, Lila Buescher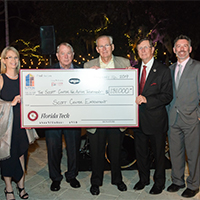 Our Donors
We take our relationship with our donors seriously. They believe in our mission and choose to support it through financial gifts that are vital to the success of The Scott Center for Autism Treatment. Their support allows us to advance our mission of providing opportunities for children with autism through our training, research and treatment.
Grateful to our 2022 Evening of Hope Sponsors
Christine Lance
Cypress Bank & Trust
Dale & Pamela Dettmer
Dr. Shashin & Dipty Desai
Desai Family LLC
Dr. Gopal & Nina Gadodia
Dr. Raj & Gauri Rawal
Farmer Family Foundation
Hitesh & Shital Patel
Jim & Jonnie Swann
Martha Sinclair
Robert Leader
Shirley Slack
Vik Verma
2022 In-Kind Donors for Mystery Boxes and Live Auction
Achieve Beautiful Skin
Antonio & Vittoria
Apocalypse Coffee Roasters
Beef O'Brady's - Titusville
BJ's
Brevard Zoo
Carrabba's Italian Grill - Merritt Island
Clevens Face & Body Specialists
Cocoa Beach Fish Camp Grill
Djon's Restaurants
Drink Local Wine
Fiberglass Florida
Fishlips
Flavors of India
GrayRobinson, P.A.
Headline Sports Bar
Hemingway's Tavern
Hotel Melby
Intracoastal Brewery
Jabbers Bar & Grill
Kendra Scott
King Center
LPL Creations
Nails by Faye
Ocean Partners Hotel
Oliver Thomas
Painting with a Twist - Melbourne
Paul's Woodworking
Pozzy Bros. Pizza
Publix
Red Lobster
Residence Inn by Marriott Melbourne
Rising Tide
Sandbar
Sandy Soul Boutique
Sorelli's Hair & Spa
The Seaside Succulent
Your Pie