Mission
We are dedicated to applying research and high-quality treatment and training to improve the function and quality of life of children with autism spectrum disorders (ASD) and related disabilities in Central Florida.
Vision
The Scott Center for Autism Treatment provides the gold standard in autism treatment, research, and training. We continue to expand our ability to support families with ASD by seeding the world with our highly-trained experts.
Values
Our clinicians are empathetic, passionate, and committed to your child's wellbeing. Our approach is client-centered, focusing on what your child needs and adapts as your child learns new skills to provide positive outcomes.
Our History
The Scott Center for Autism Treatment was founded in 2009 on the campus of Florida Institute of Technology in Melbourne, Florida. Operating as an integrated component of Florida Tech's College of Psychology and School of Behavior Analysis, the center pursues a three-fold mission of clinical services, research and training.
The impetus to open a comprehensive autism treatment and research center came from Edward and Cheryl Scott's own experiences with their son, Reece. Reese Scott was diagnosed with autism early in life; however, at that time there was little information on how one could treat this condition. Through personal persistence and the help of his parents, teachers and therapists, Reece was able to overcome many of the challenges of autism. This firsthand knowledge of the frustrations of finding effective therapy for a child with autism motivated the Scotts to work closely with former U.S Senator Dave Weldon and Florida Tech to create The Scott Center for Autism Treatment.
Because of the generosityof our founders and our community, parents and children from all walks of life start their day at the The Scott Center, receiving the most advanced, evidence-based treatments available.
We dedicate every day to fulfill the Scotts' vision of improving thelives of children and families affected by autism. Through treatment, research and training, there is hope for a brighter future.
A Letter from Ed Scott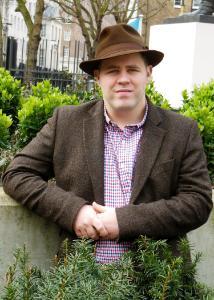 Reece Scott was diagnosed as "autistic" in 1992 at the age of three and one half. His early childhood development was consistent with that experienced by many parents who have an autistic child. This included a complete lack of speech and other communication skills. At that time, there was limited understanding as to how to treat autism spectrum disorders (ASDs).
However, Reece was given loving support and attention by his parents, caregivers, and teachers as well as therapists. His parents never lost hope that someday Reece might be able to overcome the challenges of autism that he faced. Reece was mainstreamed in primary and secondary schools. After school hours, he received considerable coaching in "social skills."
Reece has overcome virtually all of the most pronounced autism characteristics that he experiences while growing up. He graduated with high marks from Holy Trinity Episcopal Academy in Melbourne. He went on to attend Georgetown University in Washington, DC, where he received a B.A. degree in Japanese studies. Subsequently, he attended St. Antony's College at Oxford University where he earned an M.Sc. degree in "Modern Japanese Studies."
Today, Reece lives by himself in Tokyo, Japan where he has started his own company that is involved in localizing computer game software for sale in the Japanese market. He has his own apartment that he maintains, and he handles all his basic life maintenance decisions on his own.
Reece's parents, Cheryl and Ed Scott have been concerned for years with the challenges parent of ASD children have in finding helpful and appropriate treatment modalities for their children. It was for this reason that they supported FIT in the establishment of The Scott Center for Autism Treatment. Their advice to all parents struggling with the challenges of autism-related disorders: Don't give up and don't lose hope.